Sounding Circle: President Bush Signs Flag (Illegally)


| | |
| --- | --- |
| President Bush Signs Flag (Illegally) | |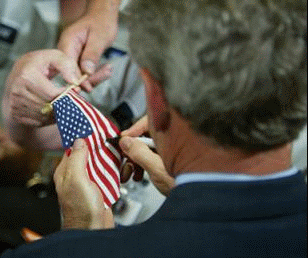 25 Jul 2003 @ 22:53, by Raymond Powers

US Code, Title 4, Chapter 1, Sec. 8 (g): "The flag should never have placed upon it, nor on any part of it, nor attached to it any mark, insignia, letter, word, figure, design, picture, or drawing of any nature."





Category: Activism

---
15 comments

25 Jul 2003 @ 22:56 by vibrani : Figures
lol


---
26 Jul 2003 @ 04:02 by istvan : Wow, what a collectors item
After the Bush or the flag, or both are gone this will worth a million at least.
He should have signed the wooden stick,BBut apparently he is not too keen on customs, rules and regulations, nor laws.What a rebel!


---
26 Jul 2003 @ 05:13 by spiritseek : What do you expect...
from a puppet, someone forgot to pull the right strings on this one. Everyone knows a puppet is only as good as the puppeteer.


---
26 Jul 2003 @ 11:03 by sharie : So he committed a federal offense...
like this is the first time that's ever happened.


---
24 Feb 2004 @ 06:54 by @164.107.193.119 : flag
the image is not real. I wish i could say it is, but i can't


---
18 Oct 2004 @ 08:46 by Gary @24.8.181.72 : Signing the flag
You are an idiot. Bush did sign flags and handed it out. It was on the national news. I saw it on CNN.


---
21 Jan 2005 @ 13:01 by Jim Spalding A.K.A. Avalon9 @198.119.214.231 : Liberals
You guys suck. Bush is great. I wish the "libs" would stop with all this crap. They lost, get over it.


---
21 Jan 2005 @ 21:13 by @209.112.197.100 : misinterpreting US Code
Don't be fooled. Read the entire title and chapter sited (i.e. google USC). No laws were broken, however, President Bush may need to revise his stance on flag defecation.


---
6 Feb 2005 @ 06:57 by @24.14.85.27 : to stoopid to be alive
Uh Aubrey, Smirkey did in fact do something VERY wrong.

Sec. 8. — Respect for flag G- The flag should never have placed upon it, nor on any part of it, nor attached to it any mark, insignia, letter, word, figure, design, picture, or drawing of any nature.

Only an idiot wouldn't understand that.


---
29 Jun 2005 @ 03:44 by ray newman @207.69.140.51 : Wow ???
The stupid bastard can actually write his name ??


---
3 Apr 2006 @ 22:05 by The Patriot @24.227.226.158 : Listen to Aubrey
The US Code is a rule, for knowning how to properly treat things or how to properly perform ceremonies etc. It's rules, not enforcable laws. As well, the US Flag Code states that in distress you can fly the flag upside down. This is however only valid on ships, not on the land. It was made back when there were no radios or other means of communication. It is still in there so that if the radios go down they can still signal distress. If you see someone flying the flag upside down, please correct them.


---
21 Jun 2006 @ 19:33 by Anti-Bush @68.127.78.218 : Bush is an idiot


He is a fucking civil servant, not a movie star.


---
17 Apr 2008 @ 14:47 by Neo @24.117.2.226 : Obama
suddenly, Obama not wearing a Flag Lapel Pin isn't such a big deal, eh?


---
16 Jul 2008 @ 09:35 by john manyjars @121.160.49.82 : Bush sucks
Obama's flag pin is a very big deal to the RePigs...Bush defacing a flag, however, IOKIFYAR...

Suck on it, Pigs. You know who you are.


---
20 Aug 2008 @ 09:52 by Um @85.178.85.125 : No
Politics - political parties included - are all a game. Game with very real and very high stakes, but a game nonetheless. Calling Republicans "RePigs" just is poor sportsmanship on your part.

I'm an independent and I approve of this message.


---
Other entries in Activism
2 Apr 2011 @ 01:00: The best place to be for subsistence....
11 Mar 2011 @ 01:23: Flute solo, Ocean, performed by Jonathan McCuen
18 Sep 2006 @ 23:03: Greenpeace Activists in Brazil Block Cargill Soy Facility
18 Aug 2006 @ 20:32: Ronald McHummer Sign-o-Matic
22 Jun 2006 @ 20:01: AT&T to customers: We own your data
21 May 2006 @ 14:05: Horizon Organic Milk Brand Faces Consumer Boycott Over Factory Farms
21 May 2006 @ 13:35: Protest Starbucks: National Week of Action June 19th-25th
21 Apr 2006 @ 22:54: Bush Plan To Hide Data on 1.5M Lbs. of Toxic Chemicals in California
25 Mar 2006 @ 01:03: How Foundations Are Undermining America's Social Change
24 Mar 2006 @ 07:22: Oglala Sioux president on South Dakota abortion law




---

Link to this article as: http://soundingcircle.com/newslog2.php/_v195/__show_article/_a.htm