Sounding Circle: Vacation/Retreat Summer Special Ojai, CA


| | |
| --- | --- |
| Vacation/Retreat Summer Special Ojai, CA | |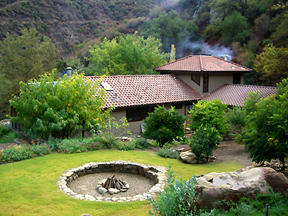 25 Jun 2009 @ 09:13, by Raymond Powers

Hello friends,

What an incredible summer it has been thus far at Calliote Canyon. All of our
guests have been awed by the beauty here and several are already booking their
returns.

We are offering a special summer rate, though most of July is already booked.
Check this out:
End of Summer Special
July-August
10% off 2-3 nights
$990 night (reg. $1100) 2-12 people/ 13+ $108 pp/pn
15% off 4+ nights
$935 night (reg. $1100) 2-12 people/ 13+ $102 pp/pn
plus 8% tax
$150 cleaning fee
children under 7 years stay free
$300-600 refundable damage deposit

Send me an email at: info@calliotecanyon if you have any questions or want to
inquire about specific dates

In Peace,
Raymond
http://calliotecanyon.com





Category: Resources

---
3 comments

8 Jul 2009 @ 18:44 by a-d : I sooooo wish...from the bottom
of my Heart to be able to come & visit you & your absolutely Magical looking Place one day! ...but now I'm here in beautiful Flathead Valley in Northwestern corner of MT ( ...yes... Billions of people don't have what I have here...yet I'm dreaming of making Something similar to yours. ....HOW in the woooorld did you manage to do it all? How many people are fulltime living on / caring for the Land? (hope U don't mind me asking... :o... : ) ))

Hugs/A-d


---
15 Aug 2010 @ 04:09 by Slush Machine @203.87.178.24 : Sounding Circle
That is a very good recommendation for those who are planning on having Retreats. It looks so peaceful and quiet.


---
2 Apr 2011 @ 17:12 by Raymond Powers @70.41.207.221 : Creation of Calliote Canyon
I'm the general manager of Calliote Canyon. It is owned by my friend Calleen Cordero who is a well known shoe designer in the fashion industry. She had a vision of creating a community gathering space and it took 12 people, 28 months to build it. Some of the structures were there and were remodeled. It was costly and put a strain on her business, and though we are one of the premiere rental locations in Ojai we rarely operate in the black, yet we are only in our third year. It is expensive to maintain with the cost of utilities, mortgage, maintenave crews etc.

If you have the land in Montana and can give people a unique, comfortable and personalized experience it's not that difficult to create a place that people want to come to. It's slow growth and it takes time to develop a good reputation and profile on the rental websites such as vrbo.com, vacationrentals.com, tripadvisor.com, flipkey.com, homeward.com etc. Online marketing and of course, word of mouth are your primary advertising tools. Also you get to know who else in the area is doing the same thing and you start referring guests to one another when you have people interested in dates that are already booked.


---
Other entries in Resources
25 Sep 2006 @ 01:44: Day Fire Information Resource Ojai Valley, CA
4 Jan 2006 @ 03:08: India Stopping Theft of Ancient Knowledge
9 Jan 2004 @ 10:19: Life After The Oil Crash
31 Aug 2003 @ 12:07: IMPRESSIVE LIST
26 Jul 2003 @ 23:18: News Of A New Human Nature
30 Jun 2003 @ 05:36: Temporary Temples
28 Jun 2003 @ 15:54: 68 New BBC RSS Feeds
23 Jun 2003 @ 04:16: Rhetorica Offers Commentary On Spin Journalism
17 Jun 2003 @ 11:53: Red Alert: The Re-Emergence Of The Nuclear Threat
26 Apr 2003 @ 17:05: Lost Treasures From Iraq




---

Link to this article as: http://soundingcircle.com/newslog2.php/_v195/__show_article/_a.htm